NBA Player Wearing Redskins Jersey Brawls With Eagles Fans in Wild Melee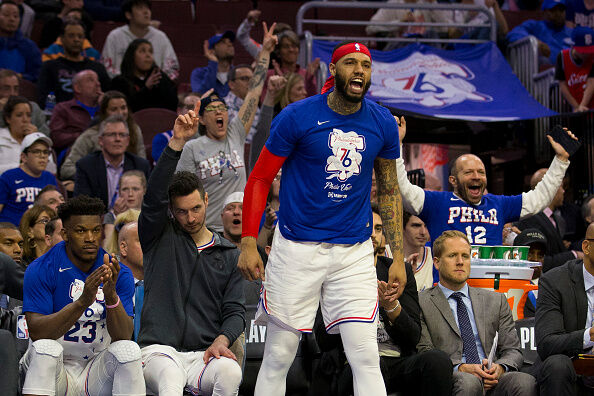 Philadelphia 76ers forward Mike Scott was involved in a wild brawl during a tailgate at the Redskins vs. Eagles game at Lincoln Financial Field on Sunday afternoon.
TMZ obtained absurd video of the 6'8", 240-pound, 31-year-old throwing punches in a scrum of Eagles fans in the stadium parking lot.
Another video went viral on Twitter as well, revealing how the fight may have started. Scott was seen approaching a group of Eagles fans who had a realistic coffin at their tailgate with a Sean Taylor jersey laid over the top and a man wearing a priest's outfit. When Scott went over to confront the fans, that's when things started to escalate.
Taylor was a former All-Pro safety for the Redskins, who was murdered in 2007 after being shot in his home by burglars.
One fan is heard chanting 'assh***' on a microphone while Scott is talking to the fans, with Scott then ripping the clerical collar off the man with the priest costume as the dispute then turned violent.
Scott, who grew up in Chesapeake, Virginia and attended the University of Virginia, was one of the lone brawlers wearing a maroon Sean Taylor '#21' jersey as he was being tracked down by multiple Eagles fans wearing green that came from the tailgate to go after an already incensed Scott.
Scott's identity was confirmed via his Twitter account, which shows him posing in the Taylor jersey before the game, and then later even taking pictures with Eagles fans in a stadium suite.
As of 2:00pm ET/11am PT Scott has not acknowledged the fight on his Twitter account, but the Sixers did release a statement saying they are 'aware of the situation and gathering more information'.
Scott has spent 7 seasons in the NBA with the Hawks, Wizards, Clippers, and Sixers, averaging 7.1 points and 3.1 rebounds for his career.
Scott signed a two-year deal worth $9.8 million with Philly in the offseason and will backup newly signed free agent Al Horford as the second-string power forward.